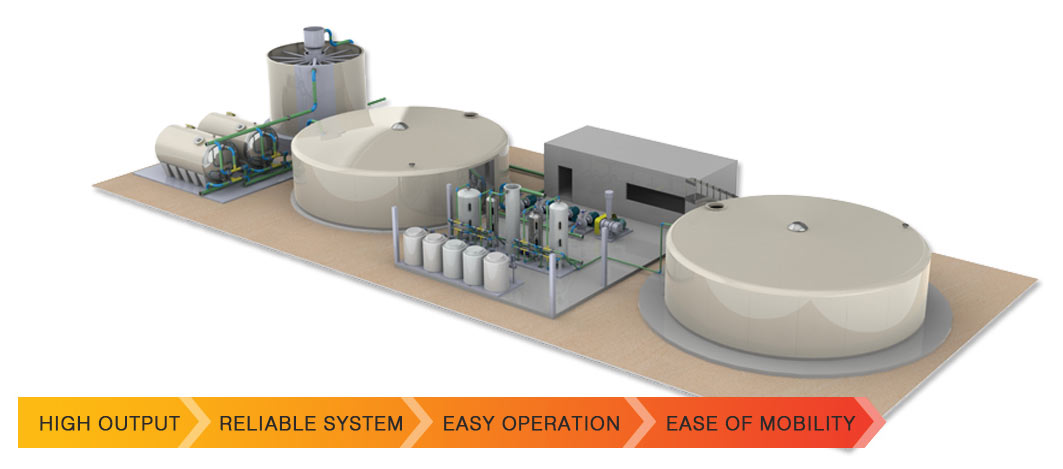 Want to produce tap water for using in your factory, resort or for sell but don't know how to start? Leave this work to us. GRE Composites Co., Ltd. – is an expertise in this field. We have accumulated experience in water purification for over 20 years. We will do the design, manufacturing, installing and starting-up the plant for you. All you have to do is give us your requirement and leave all water purification works to us. We guarantee you would get clear tap water as per water work authority standard.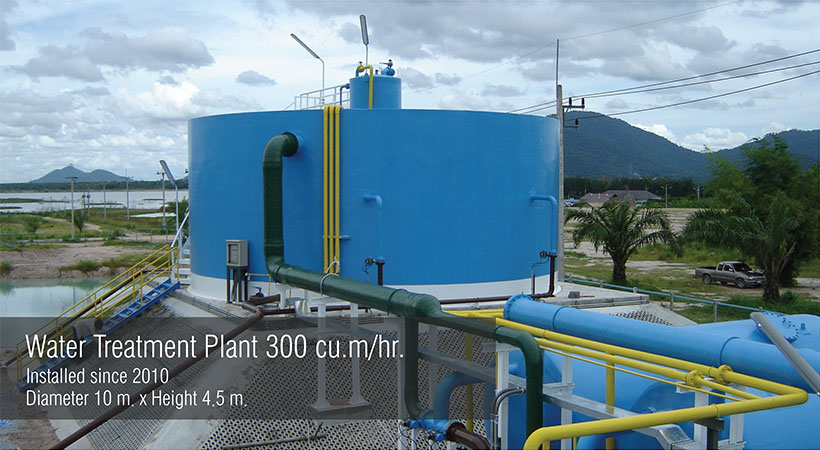 Small in size but high in speed.
Can clarified water at speed
of 3 – 4.5 m3  /m2 /hr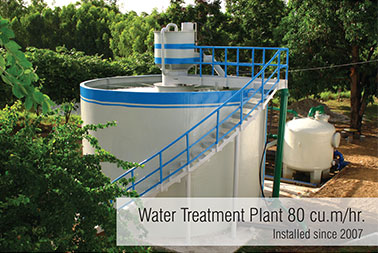 Can deal with high turbidity influent/raw water.
With porper chemical dosage, 1000 NTU raw water can be clarified to be less than 5 NTU.
MADE FROM COMPOSITES MATERIAL
suitable for 600-3,600 people
At this capacity range, all units are assembled from the factory and ready to put on site. Thus, installation can be done within 15 days.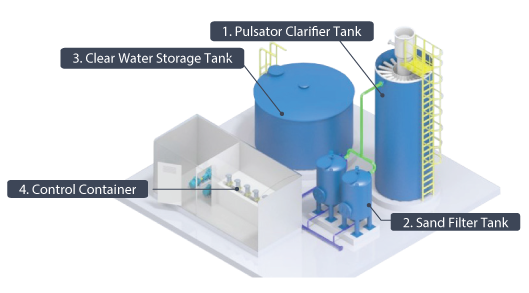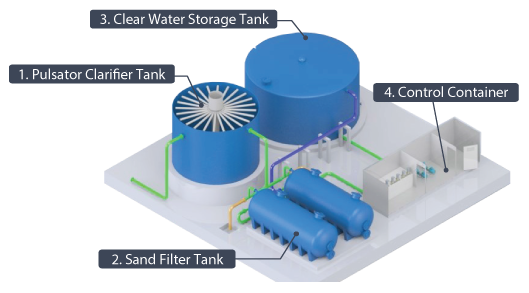 2. CAPACITY OVER 40 cu.m/hr
suitable for population over 4,000 people
50% assembled from factory. 50% come in parts and panels and will be assembled at site. Installation can be done in 30-45 days.
GRE WATER TREATMENT PLANT IS PULSATOR TYPE
AND HAS 4 MAIN UNITS AS FOLLOWS

1. PULSATOR CLARIFIER TANK
Raw water which mixed with coagulant already will flow into clarifier tank and colloid will settle at speed of 4-6 m./hr.
In this tank, there is sludge blanket, preventing colloid not to get to the top and allowing only water to go through.
On the top of the tank, there is clear water collection pipe, collecting water to sand filter.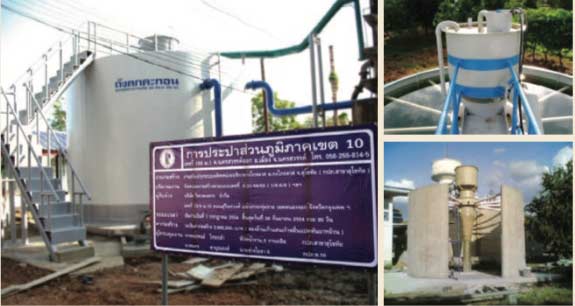 Small residual colloid will be filtrated out by sand and water will become clear (turbidity less than 5 NTU).
For backwashing, these is 2 options – manual or auto with detail as follow.
3. CLEAR WATER STORAGE TANK
for reserving clear water and having post chlorination before distributing to water supply pipeline system.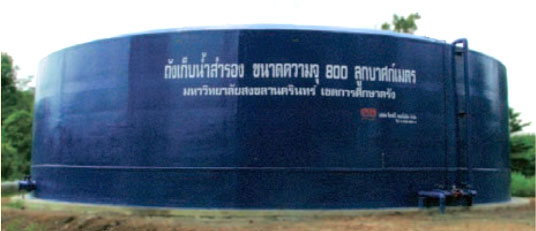 Clear water quality is comply with national standard.
for storing equipment such as pumps, air blower, and chemical tanks.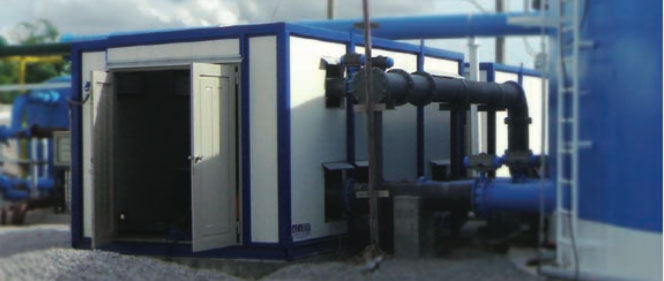 fast installation-Finish with in 30 day
For tank of which the diameter is larger than 4 meters,
DO PANEL ASSEMBLY AT SITE.

For tank of which the diameter is less than 4 meters,
THE TANK IS FACTORY FINISHED AND READY TO PUT ON SITE.

CONTROLING UNIT IS EQUIPPED AND TESTED FROM THE FACTORY.
After connecting with electrical supply at site, it is ready to use.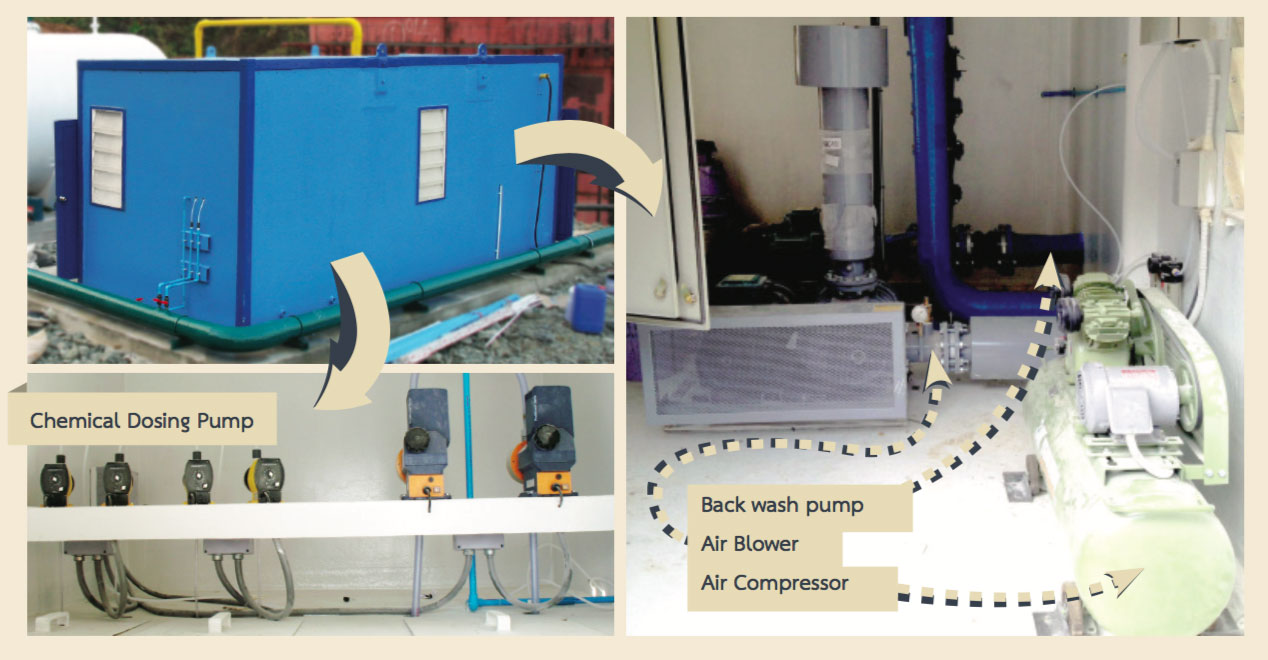 easy operation : only 5 tasks in 1 day
AT SAME CAPACITY, PULSATOR CLARIFIER TYPE
USE MUCH FEWER AREA THAN CONVENTIONAL TYPE.
Picture comparing 2 type of water treatment plant at same capacity – 80 cu.m./hr.
Let GRE Composites be the first in your mind when you think of composite products