FRP CABLE TRAY / FRP CABLE LADDER
( Solid bottom and Perforated Tray types also available. )
FRP cable tray and FRP cable ladder are light in weight but strong and durable. Moreover, it has high corrosion resistance which make it suitable to be installed in corrosive areas such as sea side, chemical plant and cooling tower. We offer complete cable tray system; cable ladder type, cable tray solid bottom type and cable tray perforate type. The length of cable tray and cable ladder can shall be customized to either 3 or 6 meters.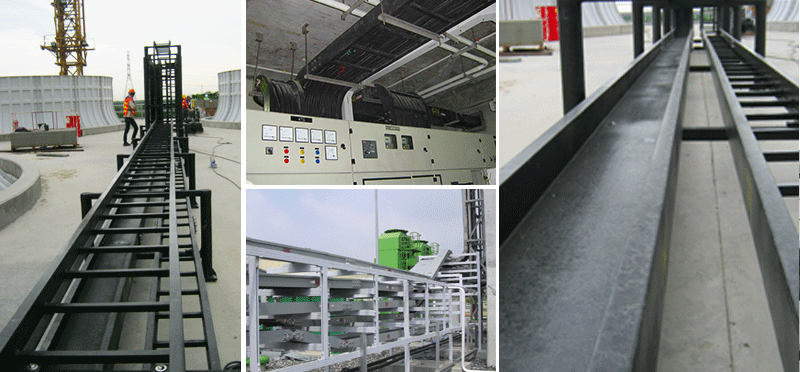 อีกหนึ่งผลิตภัณฑ์คุณภาพของบริษัท GRE Composites ใช้สำหรับในงานระบบไฟฟ้า คือ รางเคเบิ้ลเทรย์(Cable tray) รางแลดเดอร์(Cable ladder) และ รางวายเวย์ ซึ่งรางวางสายไฟไฟเบอร์กลาสของบริษัท GRE ผลิตจากวัสดุคอมโพสิท(ไฟเบอร์กลาส) คุณภาพสูง เหมาะสำหรับเป็นรางเดินสายไฟในงานอุตสาหกรรมที่อยู่ในบริเวณที่มีการกัดกร่อนสูง เพราะว่าในสภาพแวดล้อมที่กัดกร่อน หากใช้รางที่ผลิตจากวัสดุที่เป็นโลหะ หรือเหล็กชุบ HDG ก็ผุกร่อนได้ รางวางสายไฟไฟเบอร์กลาสจึงเหมาะเป็นอย่างยิ่งสำหรับติดตั้งบริเวณใกล้ cooling tower ในโรงไฟฟ้า โรงงานเคมี โรงงานกระดาษ บริเวณบ่อบำบัดน้ำเสียของโรงงานอุตสาหกรรมทั่วไป หรือแม้แต่โรงงานอุตสาหกรรมท่าเรือที่ตั้งอยู่ในพื้นที่ใกล้ชายฝั่งทะเลที่มีไอน้ำทะเลกัดกร่อน ฯลฯ วัสดุคอมโพสิทมีความแข็งแรงทนทาน อายุการใช้งานยาวนาน มีน้ำหนักเบา ติดตั้งง่ายเหมือนการติดตั้งรางวางสายทั่วไปรางวางสายไฟไฟเบอร์กลาสมีทั้งประเภทที่เป็น FRP Cable Ladder , FRP Cable Tray, FRP Perforated Tray / Solid Bottom สำหรับขนาดรางเคเบิ้ลแลดเดอร์นั้น GRE มีให้เลือกขนาดความกว้างตั้งแต่ 150 มม.จนถึง 1,000 มม. และความยาว 3เมตร, 6เมตรให้เลือกใช้
CABLE TRAY PRODUCTION PROCESS
GRE CABLE TRAY ARE MANUFACTURING UNDER PULTRUSION PROCESS
รางเคเบิ้ลเทรย์ (cable tray) และ รางเคเบิ้ลแลดเดอร์ (cable ladder) มีกระบวนการผลิตดังนี้


ภาพแสดง กระบวนการผลิต รางเคเบิ้ลเทรย์(cable tray) และ รางเคเบิ้ลแลดเดอร์(cable ladder)
cable tray & cable ladder system
Designed for these applications
STANDARD : NEMA FG 1-2002, NEMA VE 2-2001
COMPLETE cable TRAY & cable ladder SYSTEM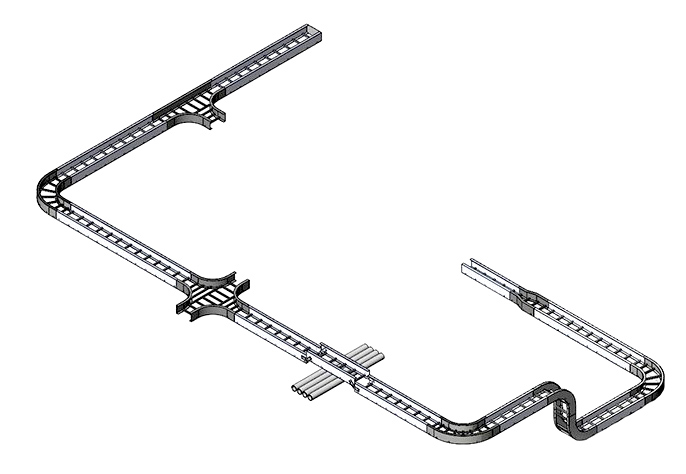 Resin Type : Epoxy, Vinyl ester, ISO polyester
Height : 100, 135, 150mm.
เคเบิ้ลแลดเดอร์(Cable ladder) ของ GRE มี Fitting & Cover หลากหลาย ได้แก่ Horizontal Fittings, Vertical Inside Fittings, Vertical Outside Fittings, Horizontal Cross Fittings และ Reducer Fittings

chemical and corrosion data
GRE cable tray and cable ladder has corrosion resistant to chemical in below table.
รางวางสายไฟเบอร์กลาสของเรามีความทนทานต่อสารเคมีต่างๆดังที่แสดงในตารางด้านล่างนี้
Corrosion Resistance
GRE Cable tray effectively resists more chemical and corrosion environments than steel, galvanized steel, aluminum or stainless steel.
Light Weight
GRE Cable tray is very light weight and has a superior strength to weight ratio compared to other materials.
Strength and Durability
A bonded and mechanical construction make this one of the toughest ladders and most durable ladders  in the business.
Non Flammability
Add fire retardant additive for self extinguishment test which is conformed to UL94.
Non Conductive
GRE Cable ladder is non conductive and offers excellent electrical resistance properties.
Wide Temperature Rating
Vinyl / Epoxy resin systems can be rated up to 110

o

C

(230

o

F

) for short periods and as well as for sub zero freezing temperatures.
Ultraviolet Protection
An added veil and UV enhancing additives results in excellent UV protection.
Complete System
GRE Cable ladder offers a complete NEMA compliant system, manufactured fitting, support system and accessories.
Let GRE Composites be the first in your mind when you think of composite products