GRE pipe is manufactured by filament winding technique, providing great strength property to the pipe. GRE pipe is designed in compliance to ASTM D 2996, DIN 16965 and TIS standards.  GRE piping systems utilize epoxy or vinyl ester resins as corrosion barriers and fiberglass for their structural strength.
What is GRE or GRP or GRVE pipe use for?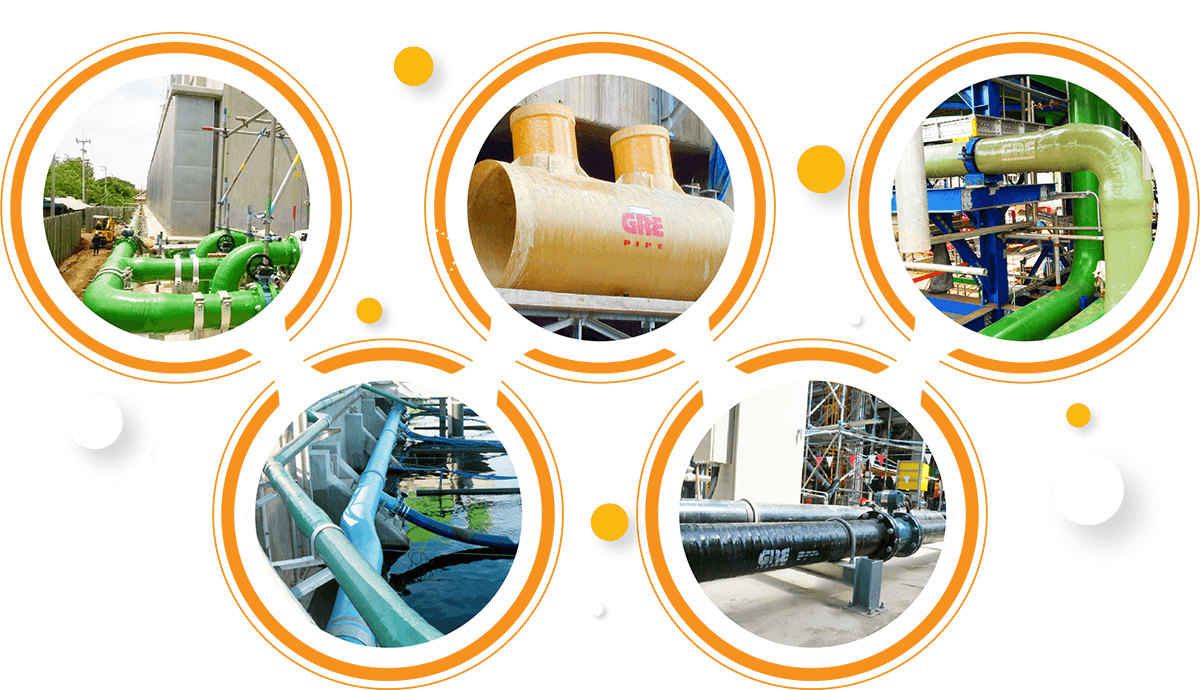 Glass fiber reinforced plastic (GRP) or Glass fiber reinforced epoxy (GRE) are a composite material made of a polymer matrix reinforced with fibers.
     GRE pipe is designed for corrosion resistance, weather resistance, visual inspection friendliness and durability.
     Fiberglass pipe has great unsupported strength capability, corrosion resistant interior and exterior, is light weight and easy to fabricate / install and has a very smooth interior for higher flow rates, reducing energy consumption. The thermal conductivity of GRE pipe is low compared to steel and hence heat loss and insulation cost is minimized.
     GRE pipe also has a smooth internal surface enables high pipe flow capacity and reduces friction as well. It can be not only easily installed but also free maintenance.
DESIGNED FOR THESE APPLICATIONS
STANDARD : ASTM D 2996, DIN 16965, TIS 1483, TIS 1484, TIS 1485

ASTM D 3299
ASTM D 4097
ASME RTP-1
TIS 435
ANSI/AWWA D 120

Designed for these applications
     GRE pipe technology is based on the Filament Winding process using high strength fiberglass (E-glass) and amine cured epoxy resin as basic material. Numerically controlled machines manufacture the product on a mandrel according to the cross section filament winding process.  The continuous glass fibers are helically wound at predetermined angles and bonded with the epoxy resin.
     The mechanical resistant layer is composed of successive layers of pre-stressed glass roving impregnated with epoxy resin and orientated with a precise, predetermined angle selected in order to achieve the properties required.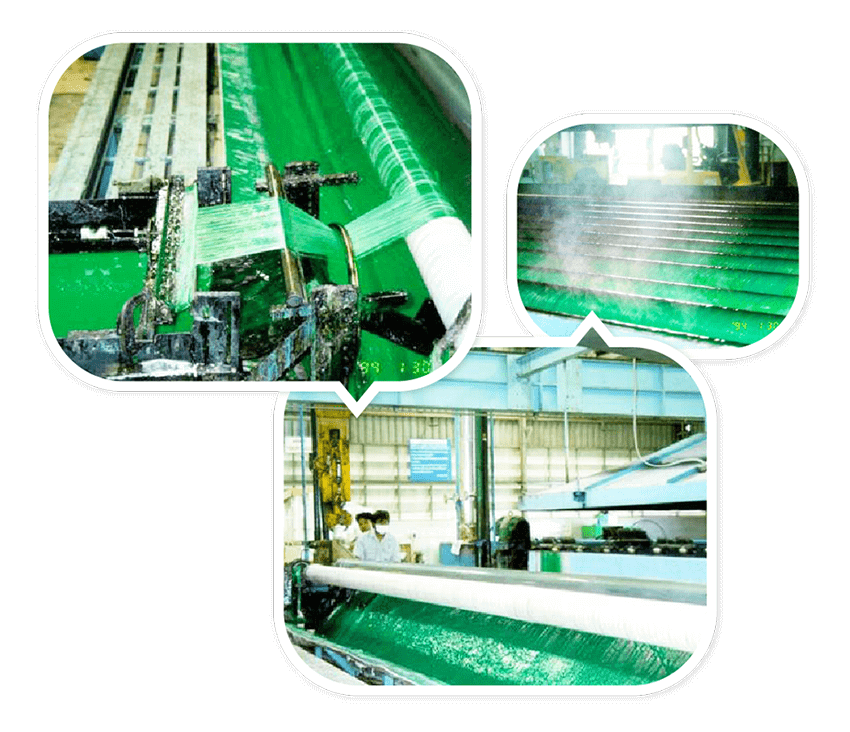 GRE pipe is generally manufactured with an integral joint, which means that the socket (for bonding, lock, or thread) is produced simultaneously with the pipe body by winding on a specially designed metallic mold fixed at one end of the mandrel. The pipes are wound on precisely machined steel mandrels, the mandrel is extracted only when the pipe is cured.
RESISTANCE TO CHEMICAL ENVIRONMENT
      The figures indicate the temperature of test medium resistance to continuing exposure by before page standardization.  This table chemical table is only a guideline information which may be changed according to the resin used.
*** This chemical table is only a guideline information which may be changed according to the resin used. ***
Let GRE Composites be the first in your mind when you think of composite products